Is Health Care a Good Career Path? was originally published on uConnect External Content.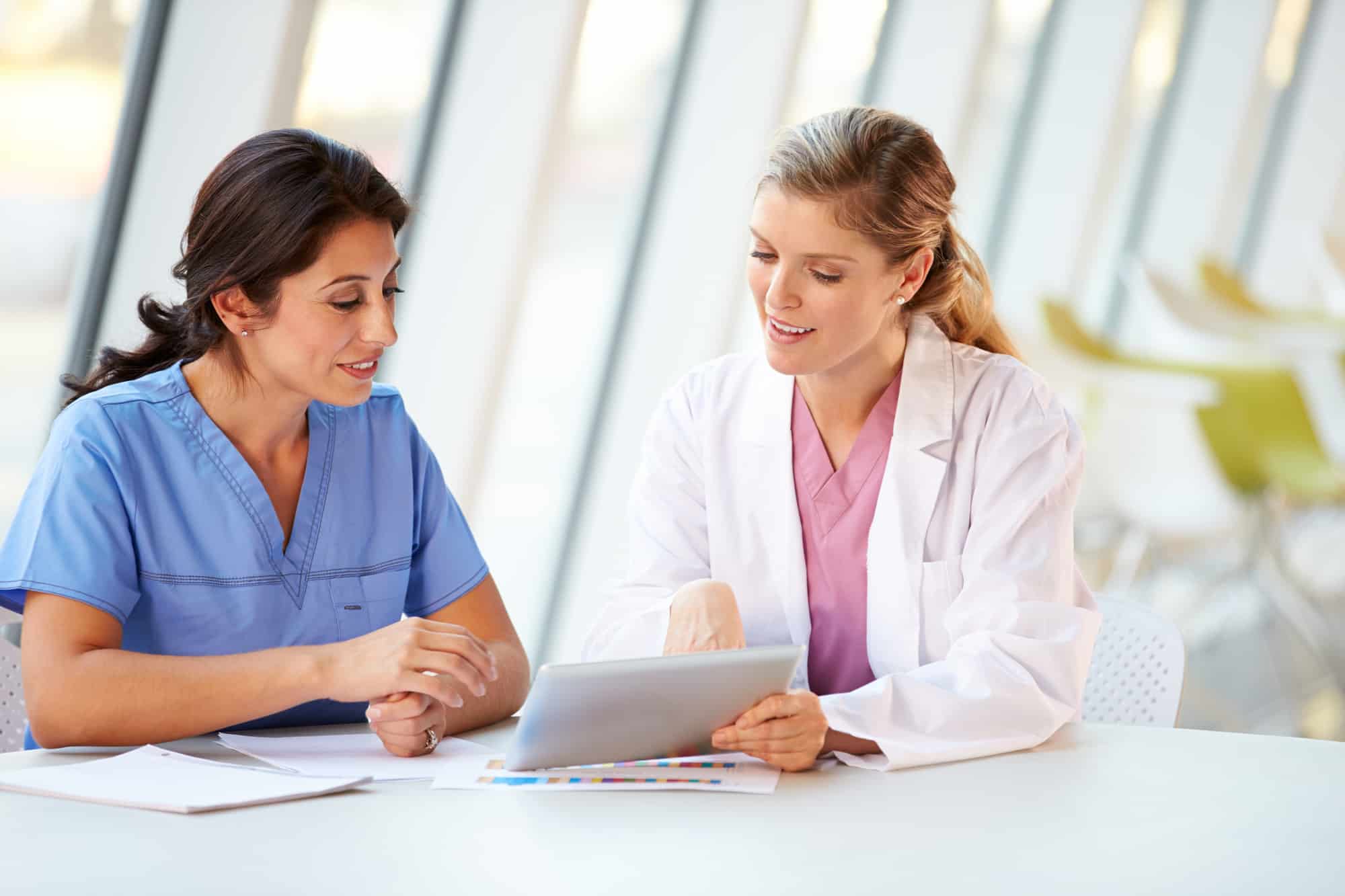 The COVID-19 pandemic has underscored the vital role that health care workers play and highlighted the industry's ongoing labor shortage. In fact, the pandemic aggravated the labor crunch, as millions of workers — nearly one in five — left the health care profession due to burnout, low pay, or both.
Thanks to the growing demand for health care services, along with resignations and retirements across the industry, health care can be a promising career path. Still, workplace stress and other factors might cause some people to think twice about entering the field.
"Health care is one of the most demanding and rewarding career paths one could choose," says registered nurse Nancy Mitchell, a contributing author at AssistedLivingCenter.com.
Is health care a good career path for you? In this guide, we cover:
What Do Health Care Jobs Pay?
The median annual pay for health care practitioners and technicians, such as doctors and nurses, stood at $75,040 in May 2021, according to the U.S. Bureau of Labor Statistics (BLS). That is much higher than the median annual pay of $45,760 for all occupations.
Health care support workers may earn far less, though. Workers in this category (such as home health aides, occupational therapy assistants, and medical transcriptionists) earned median annual salaries of $29,880.
These are some of the highest-paying jobs in health care and their median yearly salaries as of May 2021, according to the BLS:
Physicians and surgeons: $208,000
Dentists: $163,220
Podiatrists: $145,840
Pharmacists: $128,570
Optometrists: $124,300
Nurse anesthetists, nurse midwives, nurse practitioners: $123,780
"The earning potential is high, depending on the specific job you do. In general, health care careers are needed and necessary and, therefore, the salary [is] competitive," says registered nurse Edwin Cabigao, director of clinical services at Generations Healthcare in Santa Ana, California.
On the other end of the pay scale are the lowest-paying jobs in health care. These are often entry-level health care careers:
Home health and personal care aides: $29,430
Veterinary assistants and laboratory animal caretakers: $29,780
Medical transcriptionists: $30,100
Nursing assistants and orderlies: $30,290
Psychiatric technicians and aides: $36,230
Types of Careers in Health Care
The career opportunities in health care are abundant.
"Through hard work and continuing education, one can progress as far as their aspiration and ability take them. Most health care organizations offer a great variety of opportunities, all the way from the provider level to the executive level," says Sharon Vitti, CEO of ATI Physical Therapy, an operator of physical therapy and rehabilitation centers.
Among the many careers available in health care are:
Athletic trainer
Audiologist
Chiropractor
Dental hygienist
Dietitian or nutritionist
Doctor
EMT or paramedic
Genetic counselor
Hospital administrator
Massage therapist
Medicare reimbursement specialist
Nuclear medicine technologist
Nurse
Occupational therapist
Optician
Radiation therapist
Speech-language pathologist
Transplant coordinator
Veterinarian
Ready to explore health care as a career path? Check out Forage's health care virtual experience programs.
Entry-Level Health Care Jobs
The health care industry offers a number of ways to break into the business as an entry-level worker. Among them are:
Dental assistant
Dialysis technician
Home health aide
Medical assistant
Medical biller and coder
Nursing assistant
Pharmacy technician
Scheduling assistant
Ultrasound technician
In many cases, an entry-level position in health care may require some specialized training but not more than a high school diploma or GED. Of course, other jobs in health care might require a specialized degree, doctoral degree, or medical degree.
Pros and Cons of Health Care Careers
The pros and cons of health care careers are as varied as the jobs themselves.
Pros of Health Care Careers
1. Ability to help others
Vitti says people generally enter the health care field out of a desire to help others.
"It's all about the human connection and the ability to impact other people's lives for the better," she explains. "That is tremendously rewarding, and a large part of the reason I knew from a very early age that I wanted to pursue a career in health care."
Cabigao says health care lets people turn their passion for helping others into a career.
"There's nothing more rewarding than seeing someone who is ill and witnessing a positive outcome. It can be from relief from someone's pain or just helping them understand their illness," he says. "If it's really one's calling to work in health care and to care for people who need help, then it will truly bring high job satisfaction, and it feels like you're not even working. You're just living your dream."
2. Job security
Because of the high demand for health care workers, jobs should always be plentiful, some experts say. But others note that this job security might not apply to all positions in health care.
Nurses, for instance, are often in high demand, but employment growth for some more specialized positions, like podiatrists, may see slower than average growth in the coming years.
3. Career advancement
Cabigao says it's easy to move up the career ladder in health care. For example, someone might start out as a nursing assistant at a medical clinic and eventually climb up to the role of chief nursing officer at a hospital.
"Advancement within health care is very common," he says, "as we love helping people grow and to promote from within."
4. Variety
Health care professionals can work in a variety of environments. For instance, Cabigao explains how a medical assistant might work with pediatric patients or older adults, while a nurse might work in research, forensics, or medical technology.
"It is never boring to work in health care," he says, "since there are lots of options and variations in positions, settings, or areas of specialties and expertise."
Cons of Health Care Careers
1. Stress
Generally, health care workers must cope with a high level of stress.
First, Cabigao says, there's the fact that health care facilities tend to be stressful places. During the pandemic, health care professionals experienced even greater amounts of stress, anxiety, and depression.
"Taking care of sick patients and working with staff who are overworked and overwhelmed while dealing with staffing shortages can create a very stressful environment," Cabigao says.
Aside from that type of stress, there's the emotional stress associated with patient care.
"Dealing with one's mortality and illness by personally observing and witnessing someone's death or survival can be life-changing in a negative way," Cabigao says. "Staff is constantly dealing with not only physical stress but emotional as well."
2. Work schedule
Health care workers may find themselves working odd hours, long shifts, or weekend and holiday shifts. Labor shortages worsen this situation, as some workers may be called upon to fill scheduling gaps, Cabigao points out.
"Since a lot of health care facilities and hospitals do not close at a certain time of day, it means that staff will work and fill in 24/7," he says.
This sort of scheduling arrangement can contribute to a decrease in a health care professional's work-life balance, says pediatrician Dr. Leah Alexander, a consultant for the Mom Loves Best parenting blog.
"It can be difficult for some health care workers to find the space to unwind and detach from their work," Mitchell says.
3. Physically demanding tasks
Cabigao notes that many health care workers must take on physically taxing work that requires lots of moving, bending, heavy lifting, and even running.
While activity and exercise are generally considered good for overall health, European Heart Journal research indicates there's an association between occupational physical activity and increased risk for heart disease and death — referred to as the "physical activity paradox."
4. Role of health insurers
Alexander believes the biggest drawback of working in health care is the power wielded by health insurance providers.
"They increasingly have input in the type of care that patients receive," she says, "and they often require a complex approval process to cover both the patient's cost of care and payment to providers."
One reason for soaring health care costs is an emphasis by health insurers on quantity over quality. Insurers often utilize a fee-for-service system that reimburses — and encourages — tests and procedures. This can lead to overtreatment and unnecessary testing.
Health Care Careers Job Outlook
The BLS forecasts the number of health care jobs will increase by 16% from 2020 to 2030, a pace that's much faster than average for all occupations as a whole. Asset management giant Mercer predicts demand for health care workers in the U.S. will outweigh the supply by 2025.
However, projected job growth varies greatly depending on the specific health care position. According to the labor bureau, some of the occupations with the highest estimated employment growth through 2030 include:
Home health and personal care aides: 33%
Massage therapists: 32%
Nurse anesthetists, nurse midwives, and nurse practitioners: 45%
Occupational therapy assistants and aides: 34%
Physical therapist assistants and aides: 32%
Physician assistants: 31%
Health care careers with slower than average projected job growth include:
Medical transcriptionists: -7%
Pharmacists: -2%
Pharmacy technicians: 4%
Physicians and surgeons: 3%
Podiatrists: 2%
Not sure if health care is the best fit for you? If you're interested in exploring other industries, check out business services as a career path.
Image credit: monkeybusiness / Depositphotos.com
The post Is Health Care a Good Career Path? appeared first on Forage.